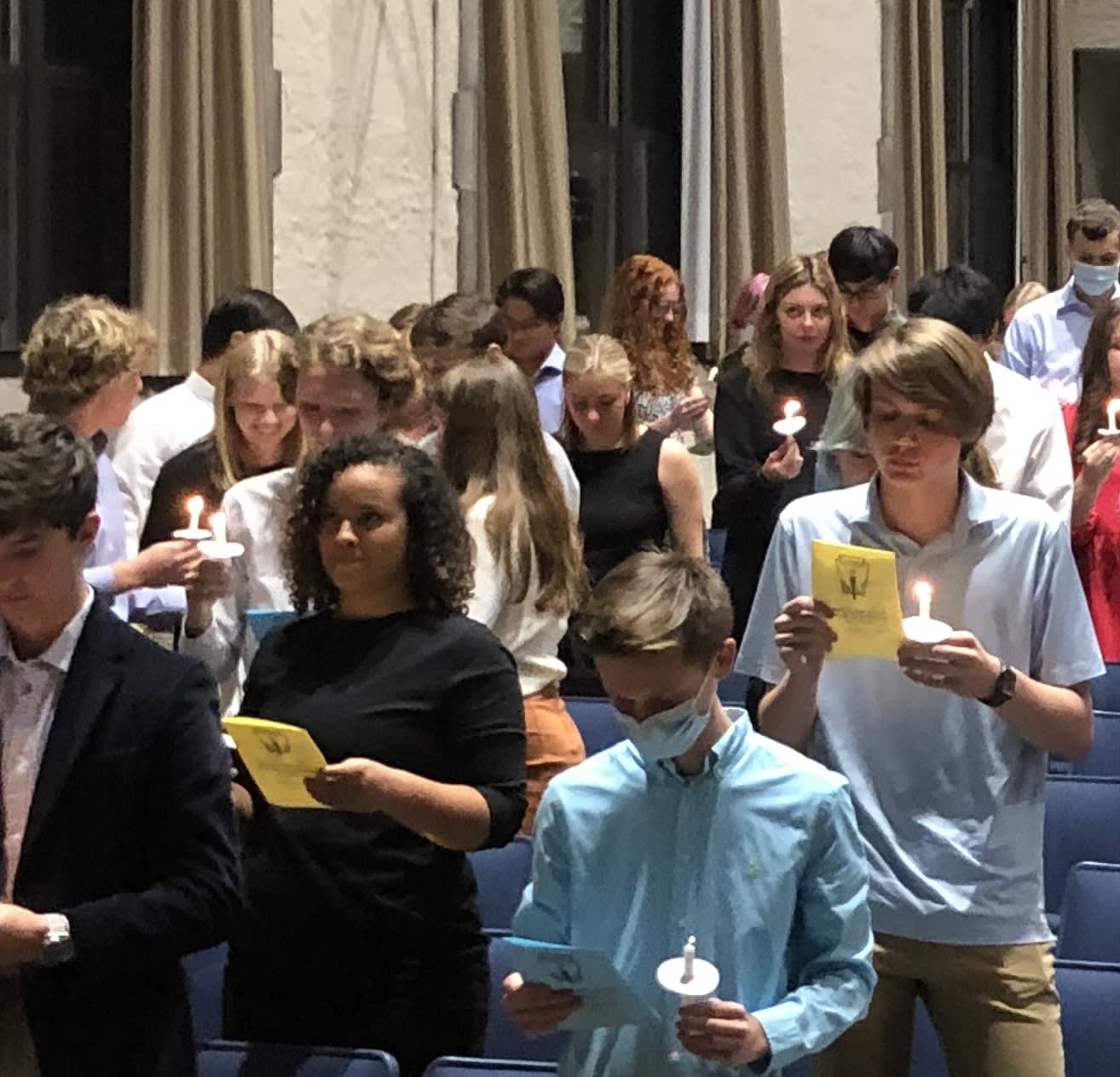 National Honor Society Induction Ceremony
A Note from the Principal
Monday evening, we had 66 students inducted into the Oakwood High School National Honor Society. Notably, an equal number of teachers were recognized by each inductee as a teacher of influence. This included teachers throughout the Oakwood City School District as well as some recently retired teachers. I was so proud of our inductees as well as the current NHS members who worked with our advisor Mrs. Juhas to orchestrate the ceremony. As a teacher, it means so much to be recognized. Oftentimes in education we are so busy doing our best to meet the needs of our students, we rarely take time to reflect on the positive impact we have had on them. The NHS induction ceremony provides a time to recognize the accomplishments of our students regarding the four pillars of the National Honor Society: scholarship, service, leadership, and character. It is also a time when teachers are honored by students. These teachers may or may not have known the impact they made on their lives. We are blessed to have amazing diverse students with different backgrounds, interests, and beliefs. We are equally blessed to have so many talented and caring teachers, counselors and support staff throughout the district. I also know that the NHS ceremony is just the tip of the iceberg representing the wonderful students and staff that make up this wonderful school and district.
Paul Waller, PhD
Principal
Oakwood High School
Financial Aid Information Available
OHS Guidance hosted an informational meeting about Financial Aid. To see a recording of the presentation and other information to make your student's journey to college easier, visit the Financial Aid page on our website.
Visit the OHS Guidance page on our website for additional information.
It's Not Too Late to Order School Pictures!
It's not too late to turn in your child's school picture orders! Please have your child drop them off at the OJH or OHS Office.
New Hope Squad members were added to the team, and they met together for the first time on Tuesday, October 19th. Many members of the Hope Squad passed out candygrams of Hope for a strong second quarter as students left the building on Friday. All members were trained in QPR in the afternoon of our last half day. QPR stands for Question, Persuade, and Refer - the 3 simple steps anyone can learn to help save a life from suicide. Look for the Hope Squad group picture in the next newsletter, but for now, check out their chalk messages of Hope around school entrances.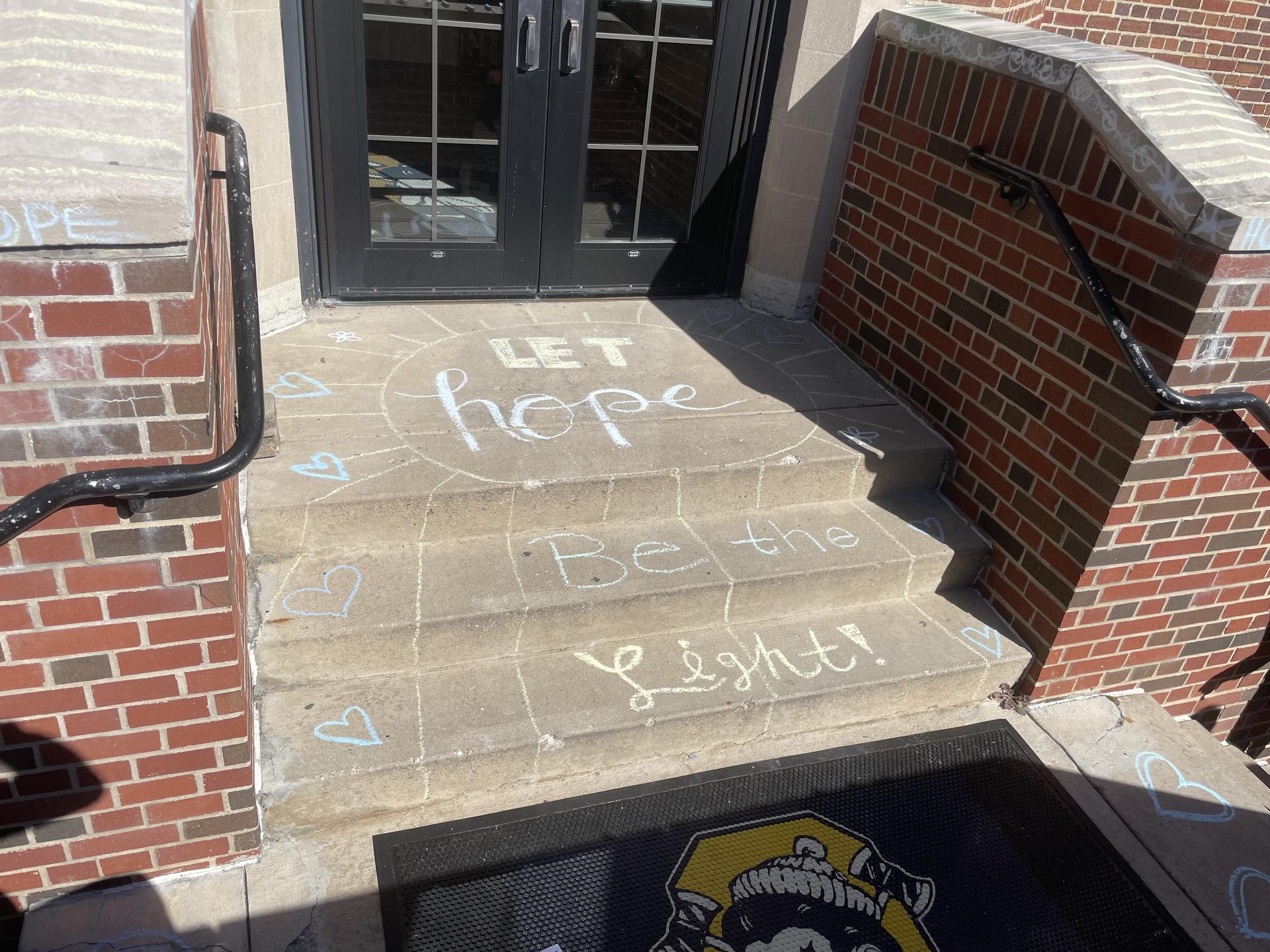 Register, Pay for AP Exams to be Administered in May 2022
Please remember to register for your AP exams by going to College Board. Students will need to create their own College Board account or use one they already created, and then follow the steps to register for an AP course. Each AP teacher has the required course section code for each class period.
AP students are also reminded to pay the $100 per AP exam fee to OHS by cash, check or through EZ Pay. The exam fees are already included in student fees. Students should see Mrs. Lumpkins if they would like to set up a payment plan.
Seniors are asked to schedule a sitting appointment at Easterling Studios for their senior photos and have their picture taken before Thanksgiving Break. Once photos are taken, a pose for the yearbook and class composite must be chosen by the first week of December. If senior pictures are taken at Easterling, the senior will automatically be included in the class composite and yearbook.
Check out the CLASS OF 2022 INFORMATION on our OHS web page for more senior updates. Please note these dates are subject to change.
Orders for class rings and graduation should now be sent directly to Jostens. Please note the sample order form with the highlighted minimum order for cap, gown and tassel.
Lumberjack Theatre will present the annual high school fall play this November. Come see Clue: On Stage and help uncover the killer of Boddy Manor!
November 4 at 7:00 p.m.
November 5 at 8:00 p.m.
November 6 at 2:00 p.m. and 8:00 p.m.
Tickets are $5 for students and $8 for adults.
News from the Nurse
It's time for a flu shot!
According to the CDC, getting a flu shot is more important than ever this year to protect yourself and those around you from the flu, and to help reduce the strain on the healthcare systems responding to the COVID-19 pandemic. A flu shot is recommended for everyone from the age of 6 months and older. Call your licensed healthcare provider today or make an appointment at a clinic or pharmacy, like CVS or Walgreens, to receive your flu shot.
Survey Coming Soon
In the coming weeks Oakwood High School students in grades 9-12 will be asked to participate in a short online survey during the school day. We believe our students' confidential and anonymous responses will provide invaluable insight into their experience, and how we can improve and adapt to their needs. You can review the questions on our website at Panorama Surveys.
Financial Update Available on District Website
Oakwood Schools Treasurer Gina Samson shares the latest information on District finances in this week's Financial Update found on the District website. For additional information on how Oakwood Schools is allocating federal stimulus funds, please review the District's Continuity of Service plan.
District Releases Plan for Access and Success for All
For the last year and a half, Oakwood Schools has embarked on important work to identify and employ our best efforts to make sure we are serving all our students. We invite you to review the District's Plan for Access and Success for All found on the District's website.
Traffic Tips from Oakwood Safety Department

We've been asked by Oakwood Safety to remind parents and students that the area at the corner of Far Hills and Spirea does not permit parking or student drop-off. This has been an issue lately, and it is impacting traffic safety on both streets. If there is a need to drop off your child, please find a legal parking spot and pull over close enough to the curb to allow safety for your child and for other families nearby. Thank you!
Due to supply chain issues, it was necessary to make changes to the menu for the upcoming weeks. Check the Family Hub to see the latest lunch plans!
Oakwood Schools Engage in Digital Citizenship Week 2021
Throughout the week, we've been sharing information about how families can promote digital well-being with their students, thanks to information found on Common Sense Education. We all want our students to thrive in a world of media and technology but it takes all of us. To learn how to help your students see how technology impacts their lives and how they can use it to make a positive impact in the lives of others, visit Common Sense Education.
From the Athletic Department
BOOSTER MEMBERSHIP & SPIRIT SHOP: The Oakwood Athletic Boosters welcome and encourage all community members to support our Oakwood Junior and Senior High athletic programs by joining the Athletic Booster Association. Information about booster membership, sports banners and Oakwood spirit wear is available on the Booster's website.
SCHEDULES AND INFORMATION: Your source for information regarding our athletic teams and their schedules is on the Oakwood Schools Athletic website. Here you are able to access contact information for coaches, directions to events, schedules, and necessary forms for participation.
Band Fruit Sale Runs Through Nov. 15
The annual Oakwood High School Fruit Sale runs now through Nov. 15. The freshly picked fruit arrives by truck Sunday, Dec. 5 -- in time for holiday giving and enjoyment.
Online ordering is available at www.FreshFruitOrder.org/OakwoodBandFruit. Gift-shipping is available via UPS the week before Thanksgiving through the third week in December. For more information, visit District News on our website.
Parents must telephone the attendance office at 937-297-5330 before the beginning of the school day and before the start of the afternoon session each day the student is absent. If your student is ill, please let us know your students symptoms so we can follow up if needed. To find out more please go to OHS/OJHS Attendance.
Job Opportunity
Looking for a part-time job? Check out our website to see who is hiring and how to apply.
Fall Choir Concert - Oct. 27 at 7:00 p.m. in the Auditorium
Oct 27 2021
FALL CHOIR CONCERT
7:00 PM
Thanksgiving Break November 24-26, 2021
First Semester Exams December 15, 16 & 17, 2021
Holiday Break December 20, 2021- January 3, 2022
Winter Break February 22-25 2022
Spring Break March 28 -April 21 2022
Commencement June 7 , 2022
Last Day of School June 10, 2022
In an attempt to facilitate communication, the District is moving to electronic flyers. Below is information specifically for OHS students. To see all of the community opportunities and events, check out Flyer Central.